Use this mount to set iPhone 12 on a tripod. Ideal for photography, video calls, watching videos, or any other use case that you can envision.
The base incorporates a 1/4"-20 screw thread compatible with most tripods and photography mounting components.
If you need a tripod, we carry Manfrotto's Award-Winning PIXI Mini Tripod, one of our all-time favorite products.
Features:
Horizontal or vertical phone orientation, easy adjustments

Durable construction, heat and impact-resistant composite material
Body material and soft pad protect your phone from scratches
Compatibility:
iPhone 12
iPhone 12 mini
iPhone 12 Pro
iPhone 12 Pro Max
Notices:
We use the strongest magnets allowable by Apple's Guidelines. Still, this mount is not appropriate for running or action sports. For these uses, we recommend using a system such as QuadLock.
Does not provide charging.
2 years Warranty
Made in the USA
Apple, iPhone, and MagSafe are trademarks of Apple Inc., registered in the U.S. and other countries.
Customer Reviews
05/21/2021
Vincent M.

United States
Must have for the iPhone 12 Pro max
I will admit, at first I was skeptical ordering this, due to not knowing much about the company. But I figured why not. I have zero regrets. I feel the item is built well, and the price is great.
05/20/2021
Jesús J.

Spain
Good product for iPhone 12 Pro
I love this magsafe tripod mount! I use with standard and mini-size tripod for night sky photos (milky way) with iPhone 12 Pro. It is excelent! Very strong magnet, well designed and good price. It is one of the few available in the market. Fast international shipping (Spain). Top mark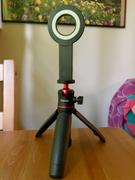 05/02/2021
Zachary S.

United States
Great
Much improved from the first gen. Holds phone well.
DM
04/27/2021
Doug M.

United States
From a 1-star review to a 5-star review.
When I originally purchased this product, I gave it a one-star review for quality alone. I received an item that appeared to be defective. The magnet was perfectly fine, but I couldn't get the mount to attach to the screw on my tripod. I tried everything, to no avail. Coupled with the shipping delays I had experienced, it left a sour taste in my mouth. So I emailed the company and asked for a refund. Turing promptly sent me a shipping label to return the item and apologized, promising to inspect it personally. I did end up sending it back, and after a few days got a response with photographs explaining why the item was defective, as well as a full refund for my purchase. They also mentioned that if I wanted to go ahead and reorder, I would receive expedited shipping for my troubles. In the interim, I decided that I wanted some additional flexibility for cold shoe mounts, so I ordered a similar product from another company. If that weren't the case, I'd probably go ahead and order another one of these. It's a great basic MagSafe mount for a fraction of what other companies currently charge. I honestly just want to thank Turing for their quick resolution to my issues and for answering all my questions.
04/27/2021
Paul K.

United Kingdom
Fantastic little product
I love the magnetic tripod mount for my iPhone. It makes attaching my iPhone to a tripod for filming super quick and easy. Adjustments are really easy and it stays in whatever position it's put in. The magnets are strong enough to feel completely secure when moving the tripod around. Very happy